Sierra Nevada: Ski resort close to Marbella
With the mild winter temperatures of Marbella and the Costa del Sol making a day on the beach perfectly feasible in December or January, it is surprising for those not in the know to find out the ski slopes of the Sierra Nevada are another option just over a two hour drive away.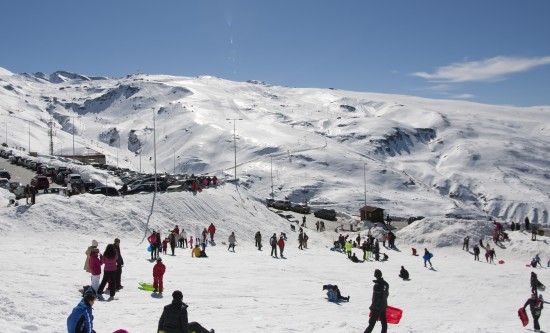 This makes a trip to the pistes of Europe's most southerly ski resort a very real possibility for those who own a property in the Marbella area. Equally surprising is that the resort also has one of the longest ski seasons in Europe, beating all but the highest slopes of more northerly options in France, Austria, Germany and Switzerland. Less surprising is that there is almost guaranteed sunshine, with 80 per cent of the days classed as sunny throughout the skiing season.
Ski season nearly upon us
It won't be long now before the slopes are once more open for business, as the season normally starts in the last week of November/beginning of December and goes right through to the first week of May. This year there's a chance it might open a little earlier as the slopes, about a 40-minute drive from Granada, have already seen snow falls.
It should not be assumed that the Sierra Nevada is in any way a substandard skiing destination just because southern Spain is not one of the traditional ski areas. Facilities are of a high standard with an artificial snow system of 353 cannons ensuring 35 kilometres of skiable piste, providing temperatures are cold enough. In total there are 107 skiable kilometres on 115 runs. Forty of them are blue, nine black, 50 red and 16 green, and cross country skiers are catered for too with ski trails and snow-shoeing.
The ski lifts have a capacity for 45,555 skiers an hour, allowing for a smooth transition from the ski village to the higher slopes.
Just one more reason to buy a Marbella property
Should you prefer to go later in the day, night skiing is available on Saturday nights, weather permitting, and the Sierra Nevada resort is also home to Europe's largest freestyle snowboard park, known as Sulayr.
The quality of the resort has also been recognised by the International Ski Federation when in 1996 the Alpine World Ski Championships were hosted there, and this year saw the 2015 Winter Universiade, the world university games, held in Granada in February. 
The proximity of such sporting facilities offers just one more reason to buy a property in Marbella. Where else can you enjoy the option of beach sunshine or snowboarding in the Sierras? If you are considering purchasing a villa or apartment in Marbella, please contact us at MP Dunne for a private consultation to discuss your requirements.
MPDunne Magazines
Interviews - Press Releases
Marbella luxury real estate by Hamptons International
Read our magazines