Marbella modern and contemporary Villas
Modern or contemporary? A question some people find hard to answer. So many properties in Marbella these days are described as 'modern', but throw in the term 'contemporary' and things can get a little confusing. This brief guide should take away some of the mystery.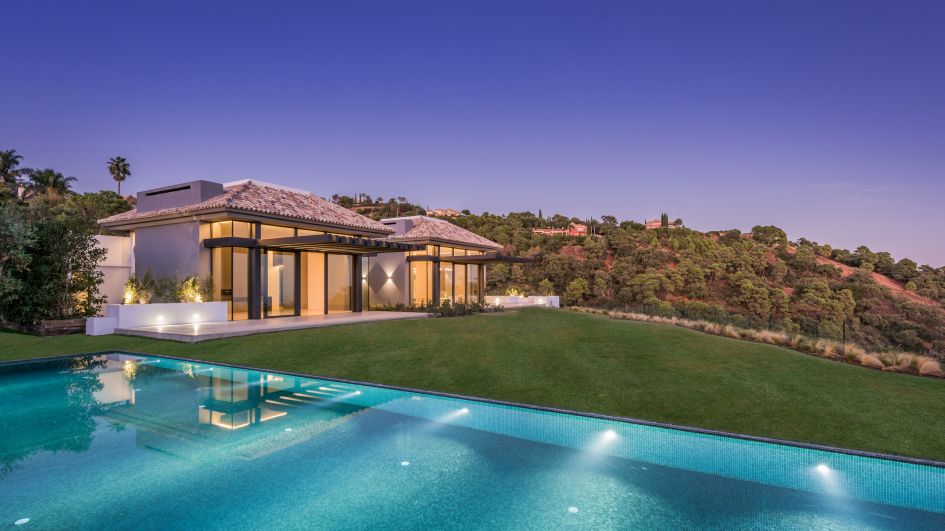 Modern
Contrary to popular belief, modern doesn't necessarily mean the latest. In fact, modern design is not actually 'modern' at all! It started in the late 19th and early 20th centuries, when the Modernist movement began, closely followed by the First World War, when modern industrial society pushed boundaries both culturally and technologically to create a new way of living. An age of cutting-edge designs and architecture developed from the eclecticism, Victorian, Art Nouveau and Art Deco periods.
Today's 'modern' styles, therefore, derive much of their inspiration from the mid-century classics of this genre. To this we add a combination of what is currently 'contemporary', to reflect our more modern trends and styles. Expect an eclectic mix of minimalism, industrial materials and light, airy open-plan living spaces, as seen at this villa for sale in Las Brisas, Nueva Andalucía, Marbella.
Contemporary
Essentially, contemporary involves designs that are rooted in the 'now'. Begging the question: will our definition of contemporary design end? Yes, it appears so, because 50 years from now contemporary will likely be something else.
But for now, contemporary design incorporates elements inspired directly by the modern era – mid-century modern and retro being favourites – while also involving a fresh combination of styles characterized by smooth curves, exposed concrete, wood, textiles and multiple textures. Smart technology is integral too, assuring security, comfort, convenience and energy-efficiency through the use of smart devices like mobile apps and network systems.
A fine example of a modern home in Marbella is this villa located in the country club surroundings of La Zagaleta in Benahavís. Its conceptual design sets a precedent for modern living on the Costa del Sol. Also in Benahavís, this villa for sale in La Alquería, features a minimalist façade and enjoys panoramic sea and golf views.
Another outstanding feature of today's contemporary architecture is its sustainability. Most current constructions are being designed to eco-friendly, energy-efficient specifications, often using natural materials in part of the home.
We love these latest design and engineering trends aimed at wellbeing, comfort and style that are in greater harmony with nature so contact us for a prime collection of modern and contemporary properties for sale in Marbella and surroundings.